Our Services At A Glance
As the Elderly Services involves supporting the vulnerable in our society, we continued to serve our elderly clients with our Meals-on-Wheels (MOW) programme during the 2020 circuit breaker.

Meals-on-Wheels

---
192
Seniors served with MOW

Medical Escort
and Transport
---
138
Seniors served with MET

MOW & MET
Services
---
49
Seniors served with both services

Referral Cases

---
148
New referral cases*
16%
INCREASE IN THE DAILY NO. OF MEALS DELIVERED
379
CLIENTS SERVED BY MOW & MET SERVICES
Meals-on-Wheels (MOW)
TOTAL NO. OF MOW CLIENTS: 221
Due to the pandemic, we saw an increase in demand for our Meals-on-Wheels (MOW) services. The daily number of packets delivered per meal reached 140 packets which was 16% more than our usual load.
Medical Escort & Transport (MET)
TOTAL NO. OF MOW CLIENTS: 187
Due to the circuit breaker, our Medical Escort and Transport (MET) service ceased till 4 May 2020. We continued to serve only existing clients who had critical medical appointments.
During the Covid-19 period, our Active Ageing activities had to be suspended according to government measures. Also, with Elderly Day Care Centres closed, the issue of social isolation was amplified as they were confined to their homes.
To mitigate this social issue, the Active Ageing staff explored new ways of engaging our seniors, from having periodic phone calls to check in on the seniors to conducting virtual weekly exercises for our active seniors.

more than
800
participants engaged through our Active Ageing programmes & activities
Going Digital Amidst The Covid-19 Pandemic
June 2020
Started our first weekly Zoom exercise
June 2020 - March 2021
Collaborated with Changi General Hospital Community Nursing team to organise online health talks for our seniors
December 2020
Held our first-ever live virtual cooking demo session which saw more 80 elderly participants
As we entered phase 3, our regular Active Ageing programmes such as Low Impact Aerobics, Rummy-O and Zumba Gold sessions were resumed on-site with safe management measures in place.


217
families & individuals were assisted through our Casework and Counselling Services
IMPACT OF COVID-19 ON FAMILIES & YOUTHS
- Amplified home issues for Youth at-risk
- Increase in no. of families seeking financial help
- Increase in no. of families seeking emotional, marital and mental health support
Our social workers assisted 16% more families & individuals
Welfare Services

Food Rations
Programme
In FY20/21, food rations worth an estimated value of
$9,307
were given out to families and individuals in dire need. A total of
35 families & individuals
benefited from this service.

M.I.L.K Scholarship Programme
In FY20/21,
more than $13,000
was disbursed to tertiary students. The "Mainly I Love Kids" scholarship was founded by the Mainly I Love Kids (M.I.L.K) Fund to provide bursaries for tertiary students such as polytechnic students and university undergraduates.

BCS Care Grant

In light of the pandemic, BCS provided financial support to families and individuals that had a loss of income or loss of job. Under this funding, BCS has supported
20 cases
with
more than $15,000
between August 2020 to March 2021.
Going Digital Amidst The Covid-19 Pandemic
Online Counselling
Since 7 April 2020, we have moved our counselling services online.

reached a total of
12
new clients

served an average of
18
per month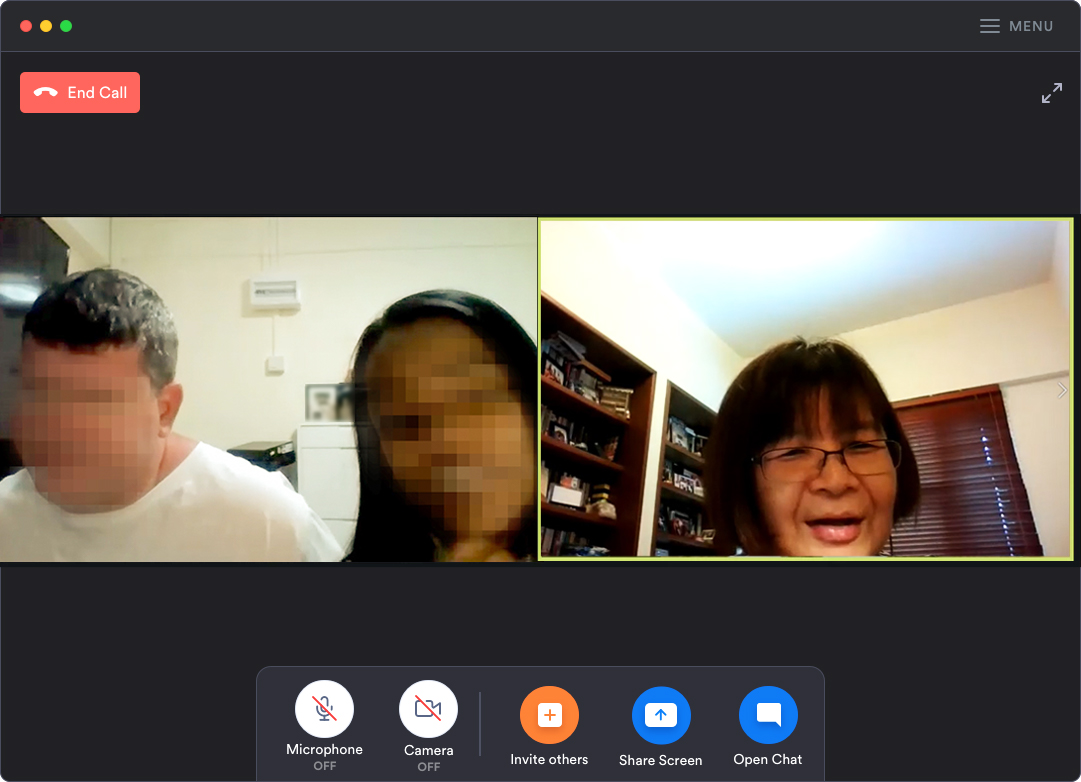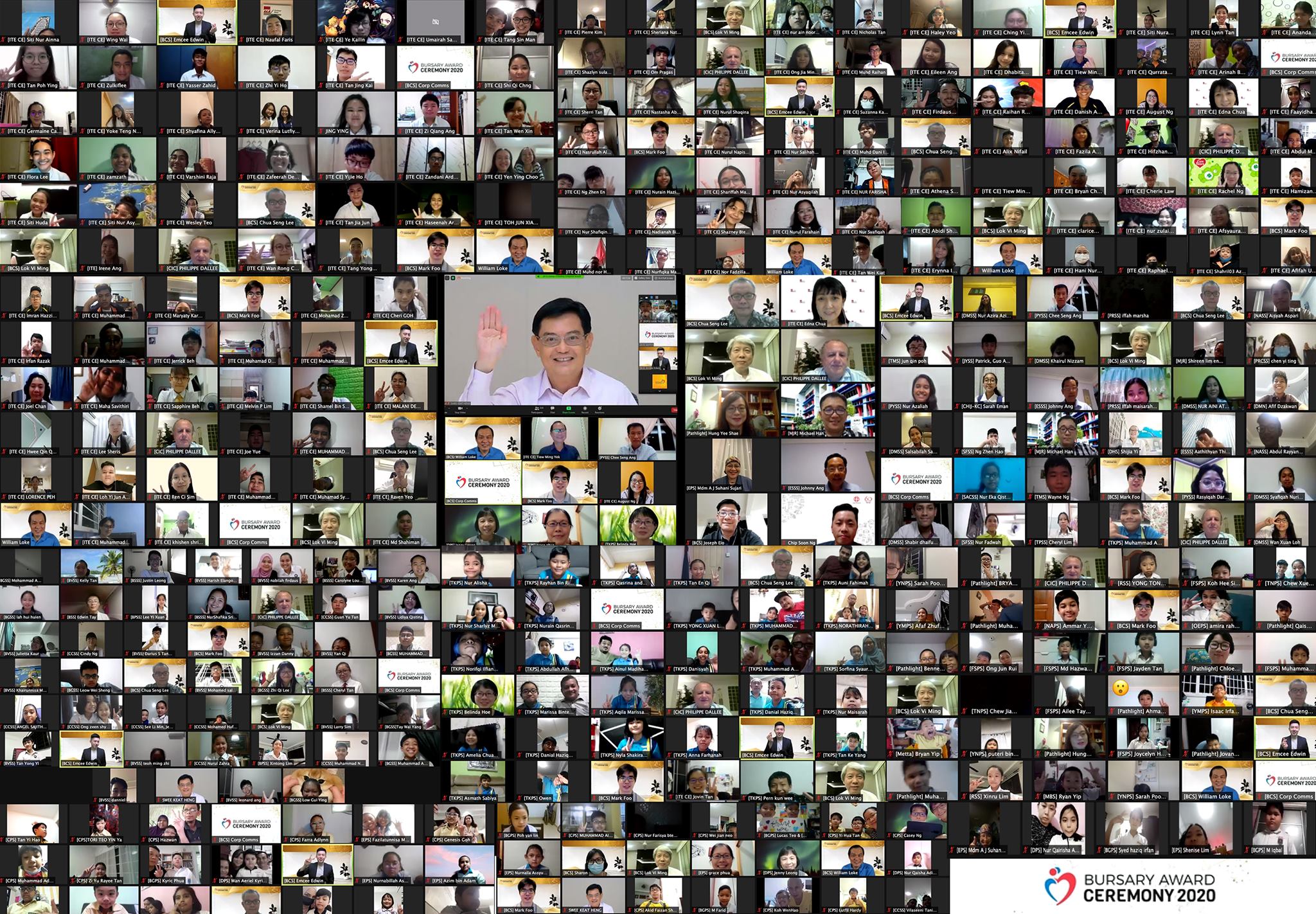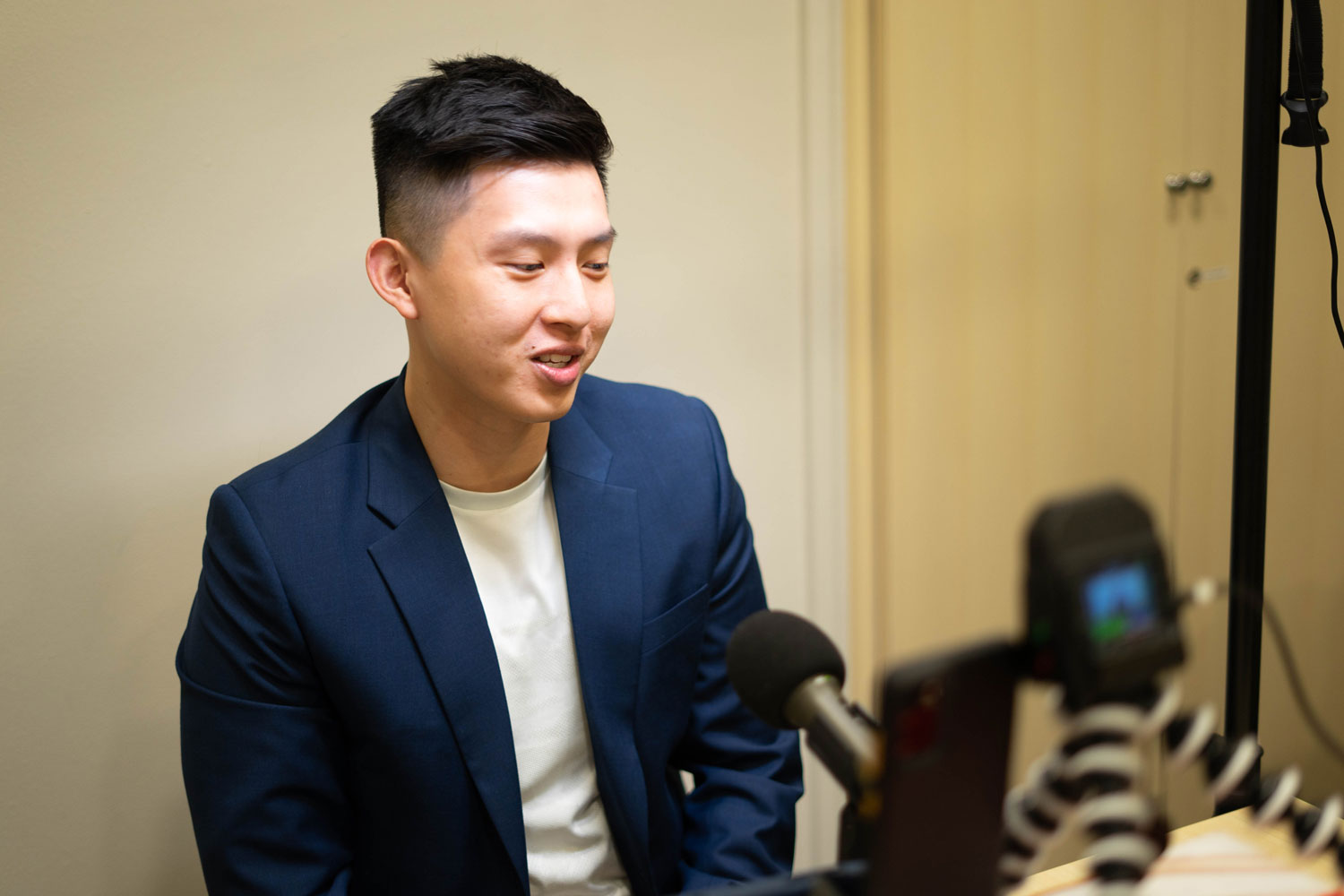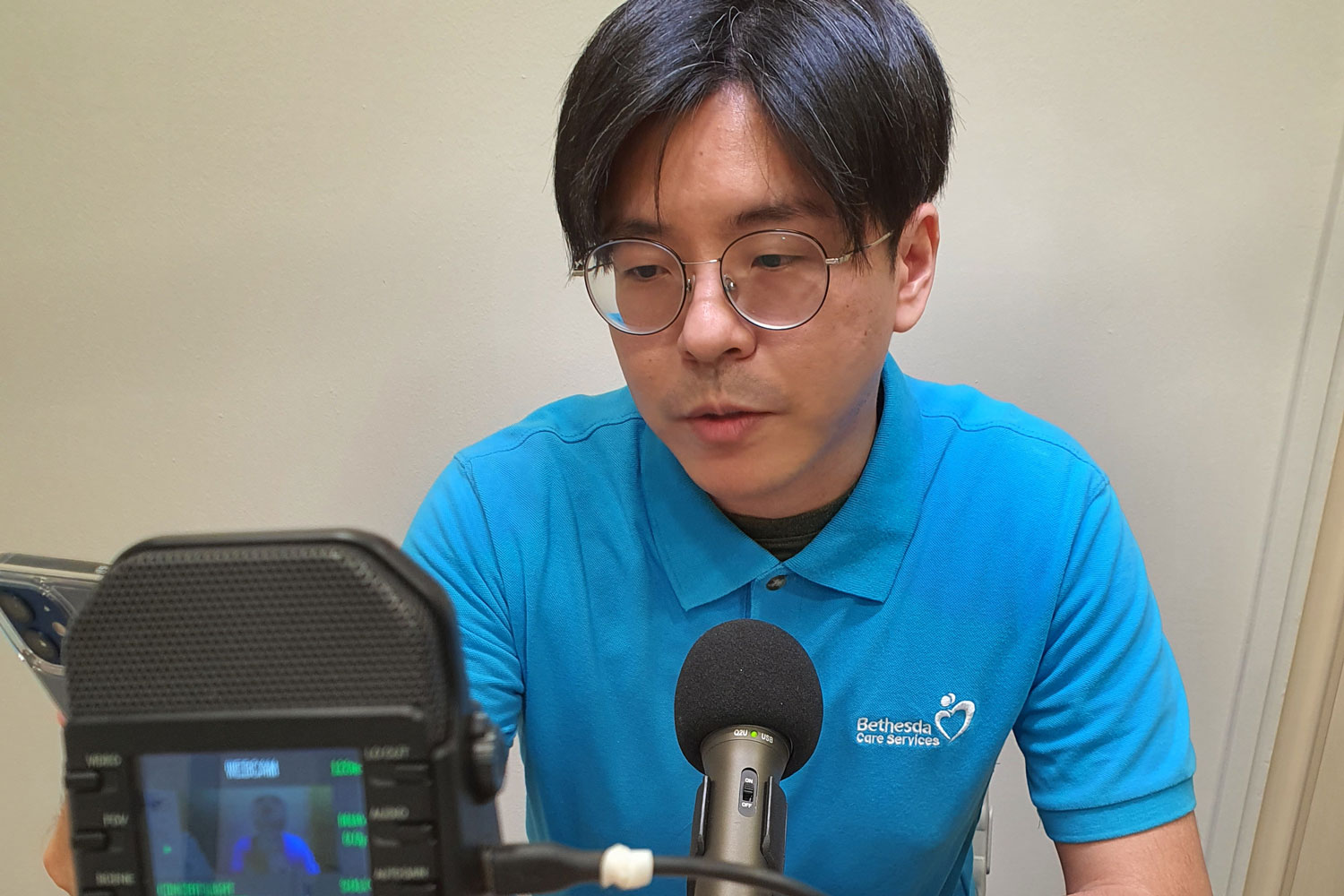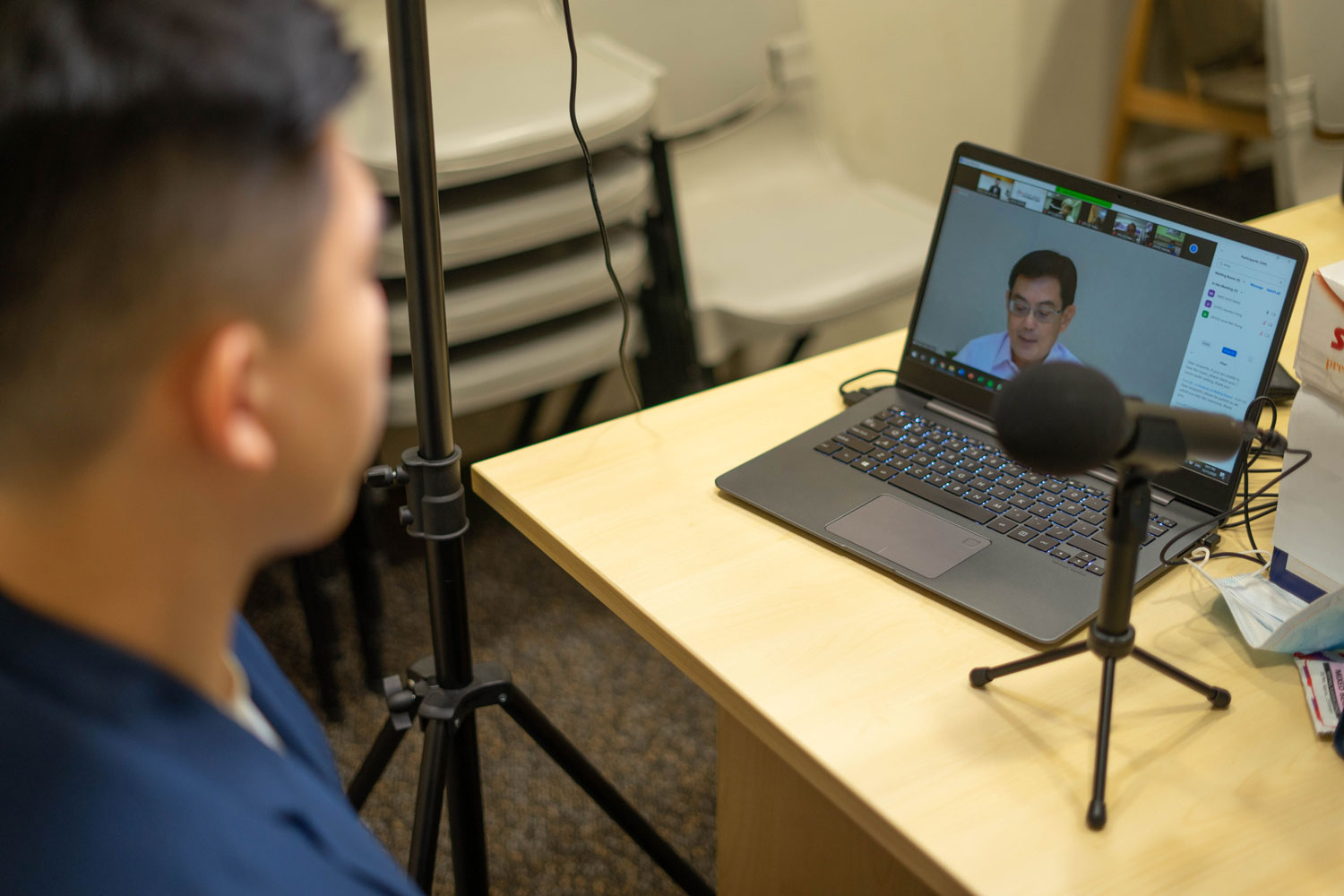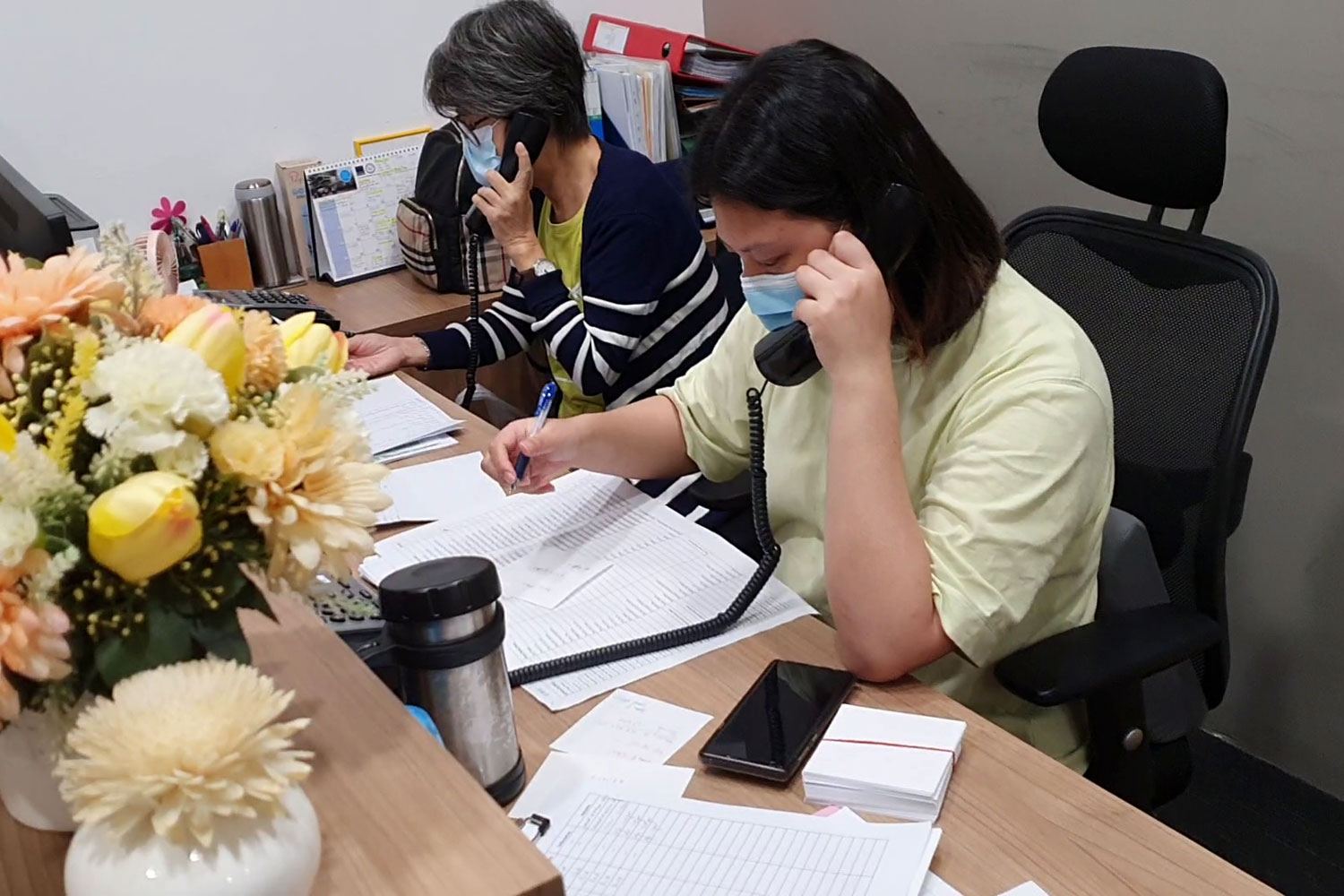 Bursary Awards
On 13 November 2020, BCS held its first-ever virtual 20th Bursary Award Ceremony via Zoom.
We were honoured to have Deputy Prime Minister, Mr Heng Swee Keat present as the guest of honour. We would like to extend our heartfelt thanks to Phillips 66 International Trading Pte Ltd, Crédit Industriel et Commercial (CIC) and Care and Share for their generous contribution and partnership in this initiative.

a total of
$129,750
was disbursed to the Bursary Award recipients

323
recipients from Primary, Secondary Schools and ITE College East were awarded
For more updates, follow us on
bethesdacare.sg

bethesdacare
YouthSpace Online Engagement
Amid a global pandemic, YouthSpace innovated its operations and moved engagement online. Youth engagement channels now include popular social media platforms such as Instagram, Tik Tok and Discord.
Instagram
Engagement Strategy | Live talent shows and games, Interviews with influencers, Giveaways, Study Tips, Quarterly value-centric themed content.
SPECIAL FEATURE
"Youth Spotlight" series featured stories of youths who excelled in talents, overcame challenges or served the community. The stories help boost the youths' confidence.

448
Followers on Youthspace IG

21
IG Live Sessions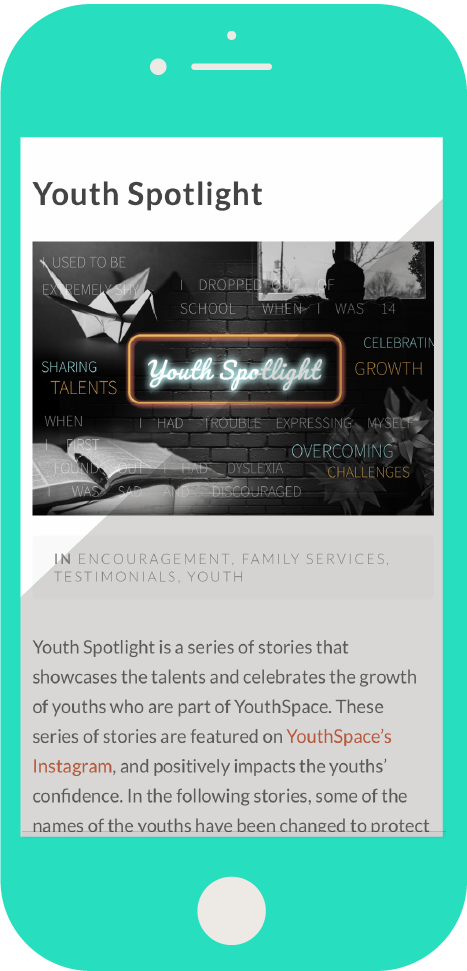 Tik Tok
Engagement Strategy | Anti-bullying, Tips to handle exam stress,
Time management, Healthy living, Mental Health
YouthSpace reached more than
60,694
views

91
Tik Tok Videos
Discord
Engagement Strategy | Channel for discussions topics

YOUTHSPACE DISCORD CHANNEL ENGAGES
48
FOLLOWERS REGULARLY
For more updates, follow us on
youthspaceonline

youthspaceonline
YouthSpace On-site Activites
On-site activites and programmes that either continued operations or resumed when safety measures permit include activities such as weekly drop-in centre for youths, monthly night cycling trips.

Corporate Highlights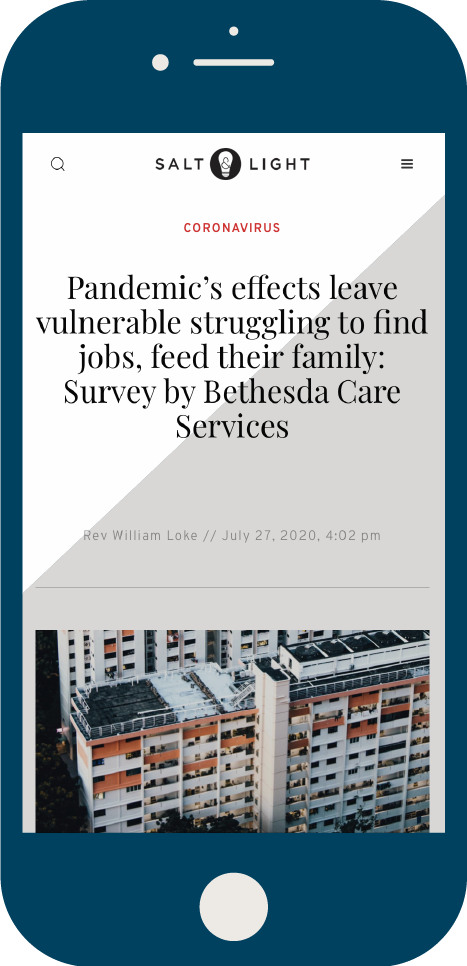 BCS Zoom Webinar
20 June 2020
Coping with COVID-19: Understanding its impact on the vulnerable within our community
Recognising that the poor and elderly are among the most vulnerable during this crisis, Bethesda Care Services carried out a needs assessment survey in April and May for our existing clients in Bedok and Chai Chee area. These findings were then shared over our Zoom webinar by our Social Workers who made observations of how families and individuals were impacted both financially and socially as a result of social distancing. Recommendations for social support were also presented in the webinar.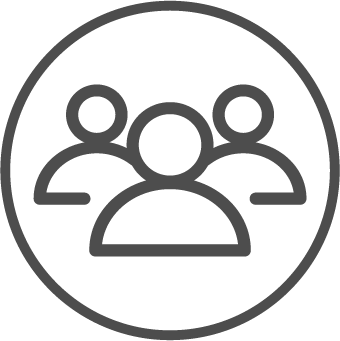 43
attendees participated in the webinar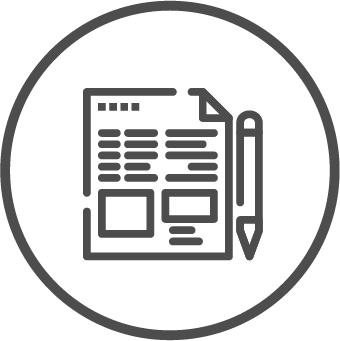 163
families were surveyed for the needs assessment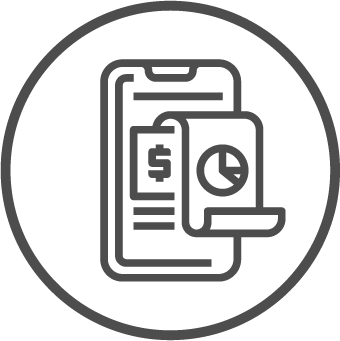 62%
of families suffered income loss due to the Covid-19 pandemic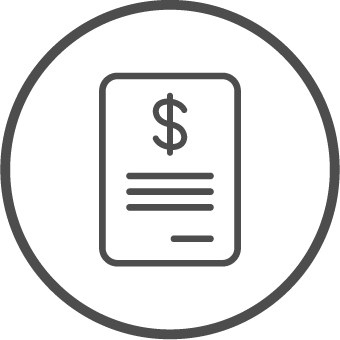 44%
of families had insufficient finances
BCS Awareness Month 2020
(BCS Digital Fundraising)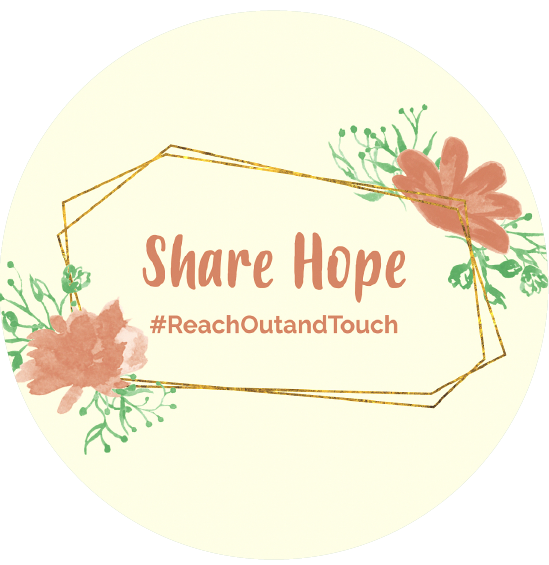 #REACHOUTANDTOUCH CAMPAIGN
END JUNE 2020 - MARCH 2021

This year's online "ShareHope" campaign covered stories of volunteers and staff bringing hope to the poor and needy especially during the pandemic and how we #reachoutandtouchlives.
In our commitment to help those in need weather this pandemic crisis, we also set aside a BCS Care Grant for families experiencing financial difficulties.
We were able to tap on the dollar-for-dollar matching for online donations raised through our digital platforms with the Enhanced Fund-raising programme.
#AllIWantFor
Christmas
Fundraising Campaign
(BCS Digital Fundraising)
#ALLIWANTFORCHRISTMAS CAMPAIGN
END NOVEMBER - 31 DECEMBER 2020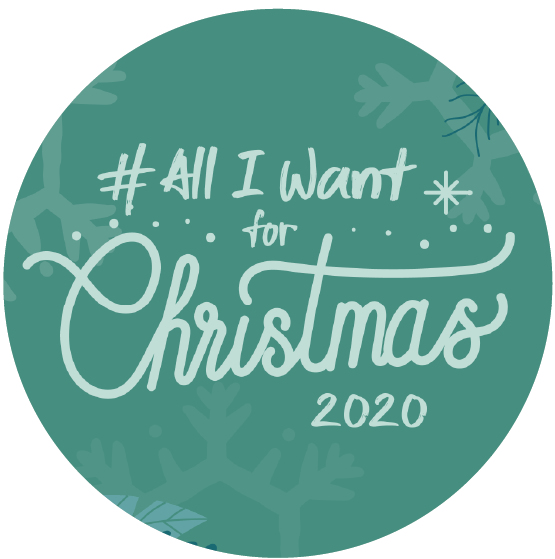 In December, we launched the #AllIWantForChristmas campaign. All BCS staff, volunteers and donors were asked to invite friends and family to give to the community needs instead of buying Christmas gifts. The campaign highlighted the needs of the vulnerable in our community, namely the low-income families, homebound seniors and individuals or youths who struggle emotionally. Funds were raised for the BCS Care Grant, Festive Gifts for seniors, Food Ration supplies and more.
Check out the link for the #Sharehope campaign stories
https://bit.ly/AIWFCupdate
3 Causes to Support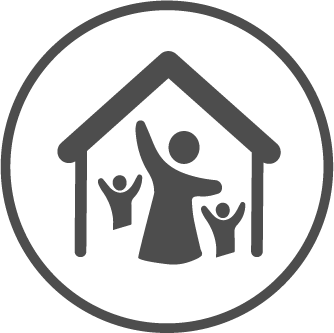 Food Rations and More
$7,511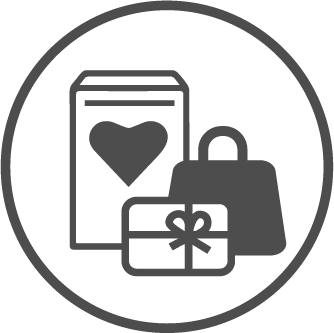 Check out the link for the #Sharehope campaign stories
https://bit.ly/AIWFC
update
Credit Suisse Mentoring Workshop
(Corporate Partnerships - Credit Suisse & excITE)
15 August 2020
We conducted our first-ever virtual Credit Suisse Mentoring Workshop. This marks our 6th year of partnership with Credit Suisse (CS). Going virtual allowed students from various ITE Colleges to participate and also enable CS mentors from Hong Kong to join us.
The central theme for this workshop was GRIT, learning to thrive and not just survive amid uncertainty. The sharing was centred on topics such as resilience and goal setting.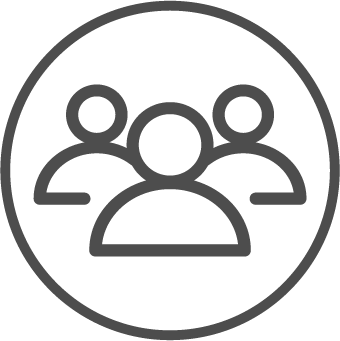 30
students participated in this workshop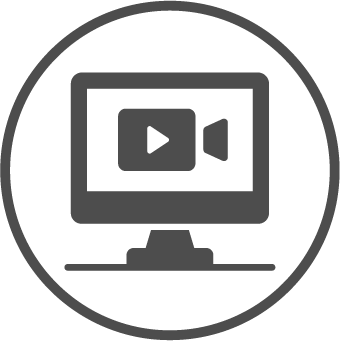 online
workshop series held on Zoom
Check out the link for the CS Mentoring Workshop Highlight video

http://bit.ly/
CSmentor2020
Breaking Space Dance Mentorship
(Corporate Partnerships - Elevate The Streets & YouthSpace)
October 2020 - March 2021
In collaboration with Elevate the Streets (ETS), the pilot run of "Breaking Space" - a six months dance mentorship programme was launched in October. Training sessions and bi-monthly support groups were provided by BCS to equip the volunteer instructors from ETS with handles as they mentored and journeyed with the youths. Through Breaking Space, the mentors helped the youths to develop their character, competence and confidence.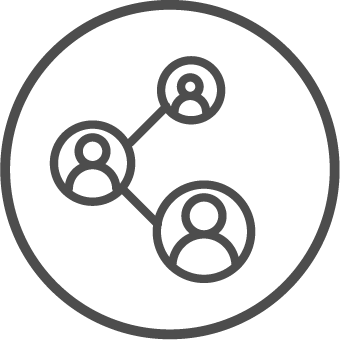 a total of
7 youths
9 volunteers
were impacted
Check out our 20th Bursary Award Ceremony Highlights video on Facebook

http://bit.ly/breakingspace
"Throughout the six months, it was nice seeing my mentee open up about troubles in his school life and personal life to me. I gave a listening ear and got to share my perspective on how I would have dealt with the issues."
Brandon | ETS Breaking Space mentor, Street Dancer
Festive Goodie Bags for Seniors
(Corporate Partnerships - The Social Co. & Elderly Services)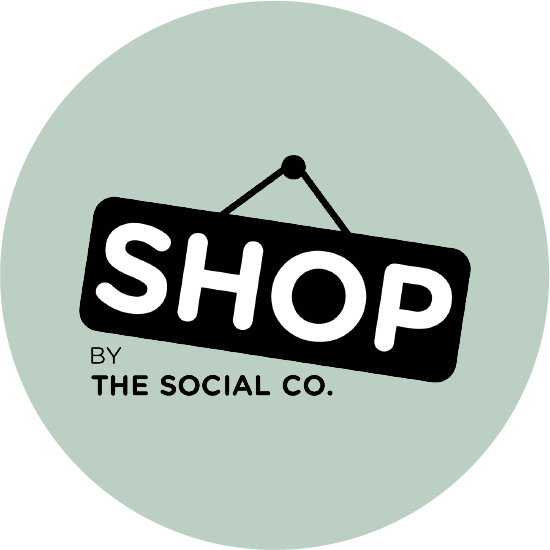 On special festive occasions like CNY, Hari Raya, Deepavali and Christmas, BCS distributes festive gift packs of food and other necessities on top of the daily meals we send to our elderly clients. This FY, we collaborated with The Social Co. for a year-long fundraising project with their new initiative – Shop by The Social Co. – a platform where donors can purchase items for those in need.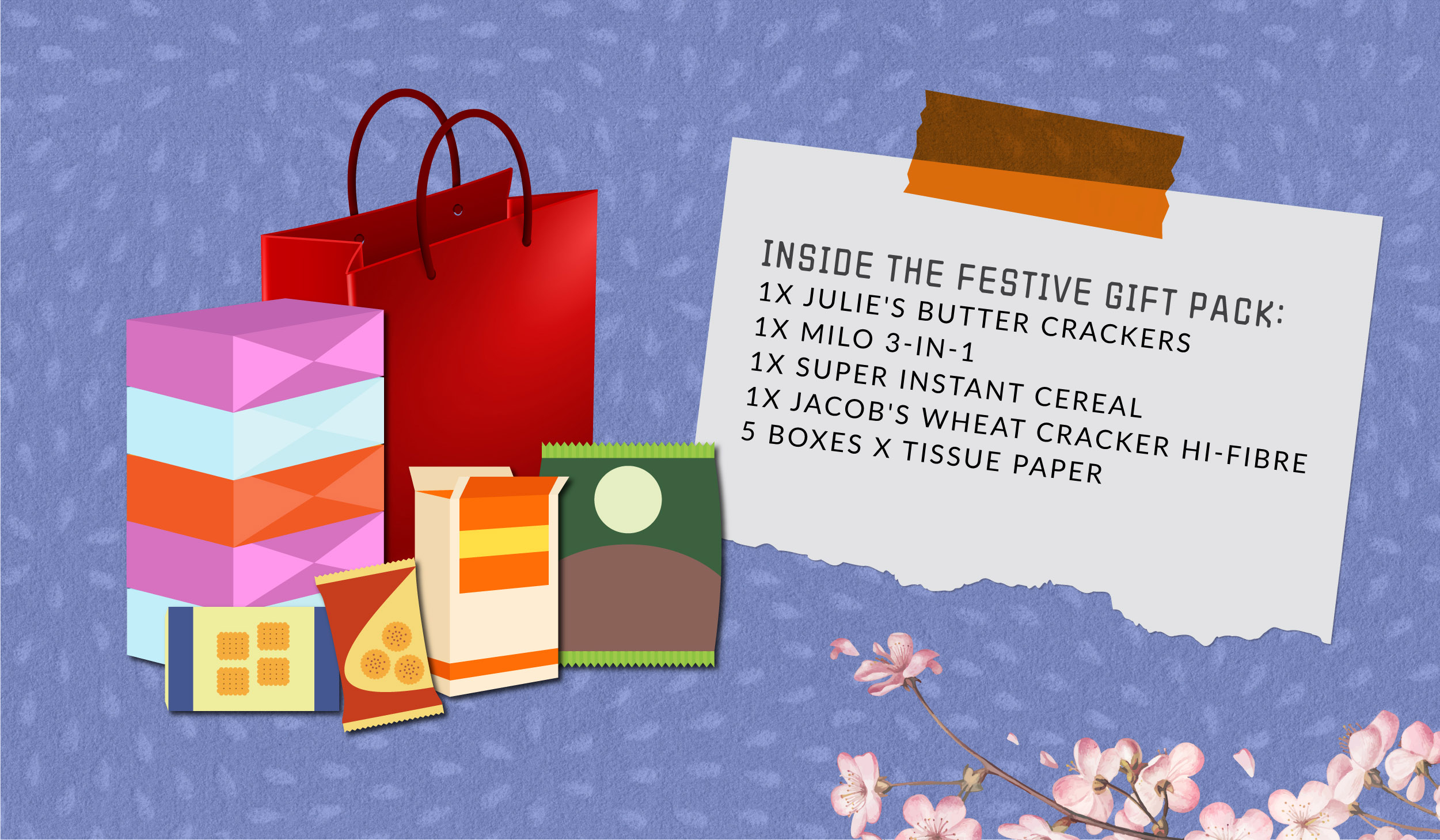 February 2021
With the help of The Social Co., we raised funds for 110 Chinese New Year festive gift packs for our Medical Escort & Transport (MET) clients. The festive bundles were then packed and distributed with the help of our staff and volunteers during CNY.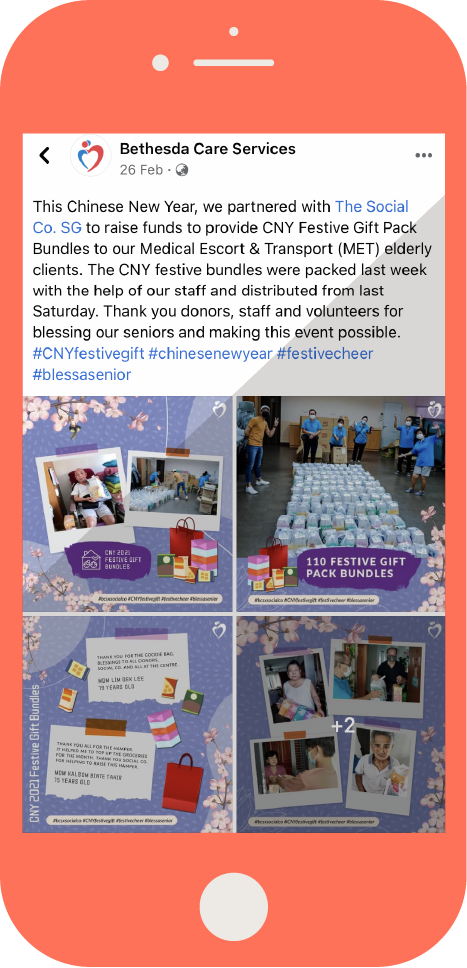 Virtual Health Talks for Seniors
(Corporate Partnerships - Changi General Hospital & Elderly Services)
June 2020 - March 2021
In collaboration with Changi General Hospital (CGH) Community Nursing team, virtual health talks were organised for our seniors. The online health talks on Zoom provided an avenue for social interaction among seniors admidst the pandemic. It also equipped them with useful healthcare information. Topics covered include mental wellness, caring for our eyes and sleeping well. The virtual health talks were conducted by CGH community nurses in partnership with BCS.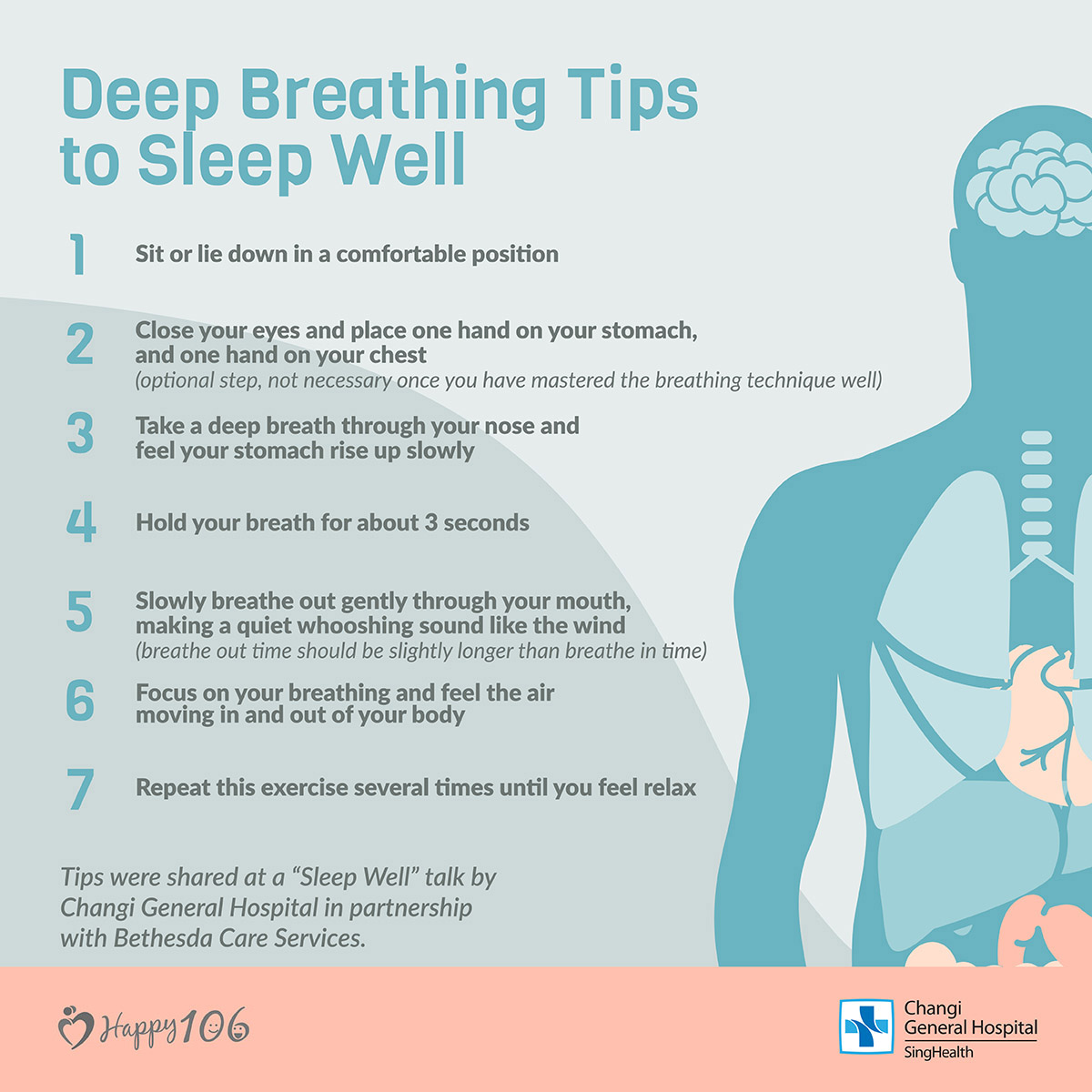 Check out our 20th Bursary Award Ceremony Highlights video on Facebook
http://bit.ly/
CGHhealthtalks
Our Volunteers at a Glance
This FY has been one of the most challenging times due to the Covid-19 situation. Despite that, we saw many who rose to the occasion to contribute their time and effort amid this pandemic. You are our unsung heroes. With heartfelt gratitude, we are truly thankful for those who have joined us to share hope to the poor and needy in times like this.

274
Total Volunteers
Excluding Group and Corporate Partners
Total Number of Volunteers For FY20/21

197
Elderly Services

58
Family Services

10
Student Care Services

197
excITE @ College East

7
group volunteers

7
corporate partners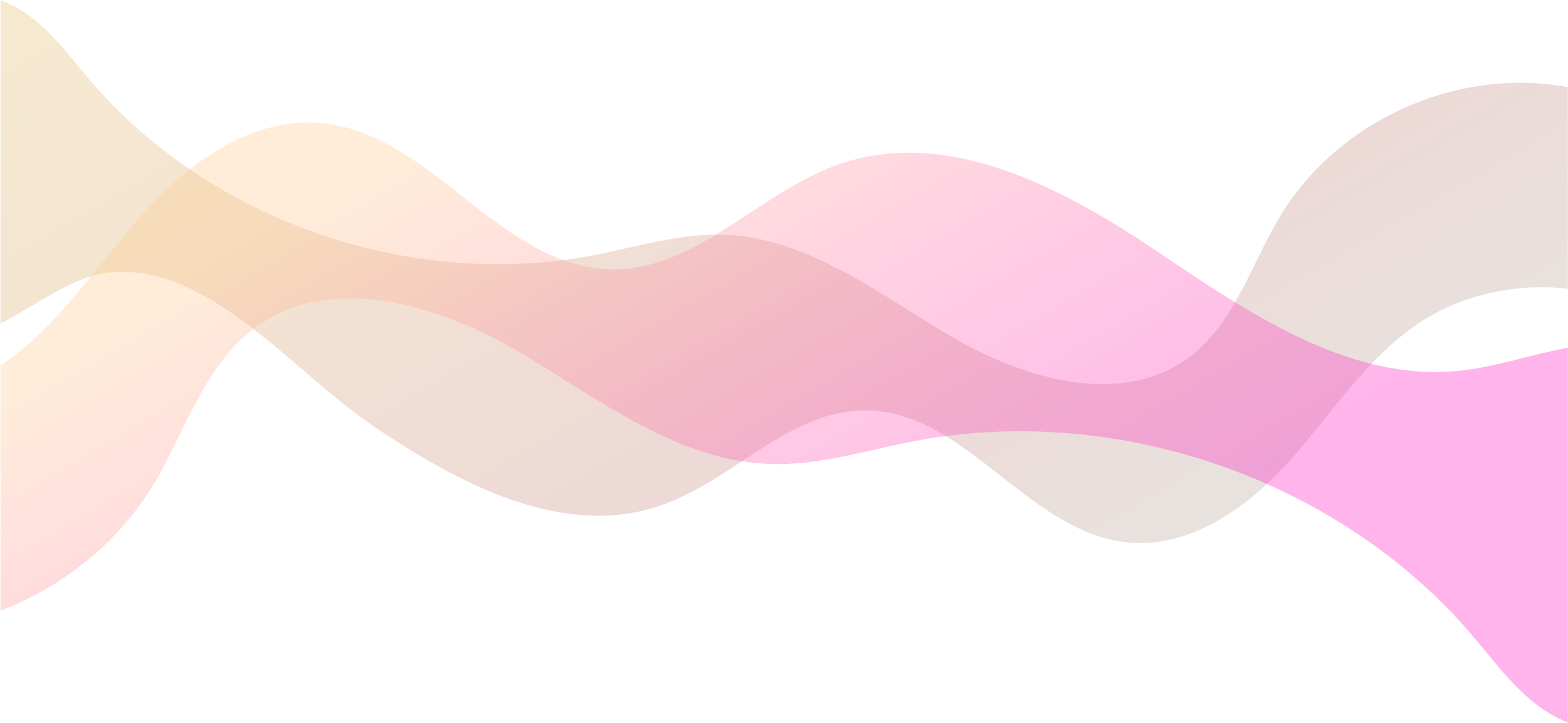 Corporate Information
The organisation was registered under the Registry of Societies in Singapore on 21 June 1996 and registered as a Charity on 19 April 1997 as Bethesda Care and Counselling Services Centre (BCCSC). On 7 February 2018, our name change to Bethesda Care Services was effected. The organization is a full member of the National Council of Social Service and has an Institution of a Public Character (IPC) status.
Name in Chinese: 恩典之家
ROS Registration Number: ROS 164/96 WEL
Charity Registration Number: 01253
Institution of a Public Character (IPC) Registration Number: IPC 000 227
IPC Sector Administrator: Ministry of Social and Family Development
Unique Entity Number (UEN): S96SS0146D
25th Management Committee
The Management Committee sets the direction, decides on our policies, administrative procedures and provides leadership and counsel relating to the management of The Society. The following Committee Members were appointed at The Society's 25th Annual General Meeting on 8 Sept 2020.
Chairman
Dr Peng Chung Mien
Vice Chairman
Mr Lok Vi Ming
Honorary Treasurer
Mr Wong Chee Boon
Honorary Secretary
Mr Lai Choy Tong
Committee Members
Ms Bok Hai Choo Christine
Ms Wong Li Tein
Ms Tan Jee Nah
Ms Wong Phui Hong
Mr Chua Seng Lee
Mr Foo Ming-En, Mark
Mr Peng En Wei
Mr Eio Wee Hiong, Joseph
Senior Management Team
Executive Director
Mr William Loke
(Appointed to position since 1 July 2015)
Senior Social Worker
- Family Services
Ms Kathleen Yee
(Appointed on 6 Jan 2020)
Acting Supervisor
– Elderly Services
Mr William Loke
Acting Supervisor
- Student Care Services
Mr William Loke
(Appointed on 1 Sep 2020)
Assistant Supervisor
– Student Care Services
Mr Chua Jun Ping
(Appointed on 1 Jan 2021)
Programme Manager
- Soul-Care Services – excITE
Ms Michelle Low
Support Operations Manager
(HR/Admin/Comms)
Mr Tu Huai Chieh
(Appointed on 1 Jan 2021)